Compiled by Philbert Ono, updated: May 12, 2023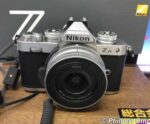 Nikon has two camera repair centers in Japan: Shinjuku (Tokyo) and Osaka. Sadly, the Nikon camera repair center in Ginza and Nagoya (Aichi) have closed. They are part of the Nikon Plaza camera showrooms and Nikon Salon galleries. Kudos to Nikon for being one of the very few cameras makers in Japan to provide information in English.
Before taking your camera for repairs or sensor or lens cleaning, you need to make reservations.
People far from Tokyo or Osaka may have to use Nikon's system to pick up and deliver the camera for repairs. You can either call or use the online form to request camera repairs. (Japanese instructions here). Only in Japanese.
Nikon also has a customer support phone number for camera repair inquiries (in Japanese only). This is not a toll-free number:
0570-02-8060 (Nikon Camera Repair Support)
Operators are available from 9 am to 5 pm on weekdays and Sat. (Closed Dec. 31–Jan. 3)
You can also call to arrange for them to pick up your camera for repair. A fee will be charged for this service. Call this toll-free number (in Japanese):
0120-02-8155 (for camera pickup service)
Operator hours: Operator hours: 9 am to 6 pm, closed year-end and New Year's period.
First make sure your Nikon film/digital camera or lens can still be serviceable by Nikon. Use this form to enter your product name.
https://recept.nikon-image.com/repair/MachineSelectInit?serviceType=3
Nikon Service Centers
Click on the links below to view the address, hours (usually 10:30 am–6:30 pm), and maps in English. The Nikon Service Center's phone number is the same for all centers at 0570-02-8060 (Nikon Service Centers).
Nikon Plaza Tokyo (Shinjuku)
Nishi-Shinjuku Shinjuku L Tower 28 floor, Shinjuku-ku, Tokyo, Japan
https://www.nikon-image.com/support/showroom/tokyo/eng_index.html
Open: 10:30 am–6:30 pm
Closed Sun., mid-Aug., Dec. 29–Jan. 4
Nikon Ginza Service Center (Tokyo)
Closed!
Nikon Osaka Service Center (Near JR Osaka and Umeda Stations)
Midosuji Grand Tower 17F, 3-5-1 Bakuro-machi, Chuo-ku, Osaka, Japan
http://www.nikon-image.com/support/showroom/servicecenter/osaka/eng_index.htm
Open: 10:30 am–6:30 pm
Closed Sun., mid-Aug., Dec. 29–Jan. 4
Nikon Nagoya Service Center (Aichi)
Closed!
Nikon Fukuoka Service Center
Closed!
Nikon Sapporo Service Center
Closed!