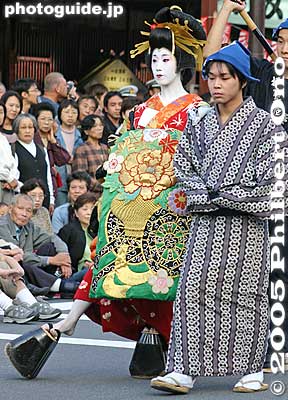 Welcome to PhotoGuide Japan!
PhotoGuide Japan (photojpn.org) is basically a resource site to educate you about Japanese photography. It mainly covers the cultural and historical aspects of photography in Japan such as Japanese photography history, Japanese photographer biographies, photo book reviews, and photography-related listings (photo galleries, camera stores, etc.).
It does not provide product information such as equipment reviews, camera prices, new product announcements, etc. Such information is readily available from other sources.
Sorry to say that the content related to Japanese photography is no longer updated here and some of it dates back to the 1990s to mid-2000s. The photography history page (PhotoHistory) stops at 2006. The book reviews (PhotoReviews) are only for old photo books published in the 1990s to mid-2000s.
· How is the site content organized?
First of all, there are two domain names: photojpn.org concentrates on Japanese photography, while PHOTOGUIDE.JP serves as a travel photo guide to Japan with numerous images (and videos) of temples, shrines, festivals, etc., from all over Japan. (Images available for licensing.) It also provides Japan tourist information in English.
On the home page, PhotoGuide Japan is organized as follows:
Blog – Much of the content is hosted here.
Photos – My thousands of photos of Japan organized according to prefecture/city/town at PHOTOGUIDE.JP.
Videos – My videos on YouTube, centering on Japanese festivals (matsuri).
Articles – In-depth articles about Japanese photography.
Meet – Information for meeting photographers and/or their work in Japan.
Learn – For learning more about Japanese photography such as the history.
Tech – Listings of camera repair centers, camera shops, etc.
Photo Ops – Sample categories of photos in the Photos section.
You can always return to the home page by clicking on the PhotoGuide Japan logo on the upper left corner.
· Who is behind this site?
It's just little ol' me. Name's Philbert Ono.
I operate and maintain the site all by myself here in Tokyo, Japan. I'm totally independent and have total control over all content and management of this site.
· Who is your target user?
We target the following people:
– Amateur and pro photographers.
– People interested in Japanese photography or photography in general.
– People interested in Japan.
– People doing research on Japanese photography.
– Foreign tourists and residents in Japan.
– Clients wanting to hire a photographer in Japan.
– Japanese wanting to learn English.
· Are you on Facebook?
Yes, we have a Facebook group called Photographers Japan. This is a discussion forum for people interested in both photography and Japan. Many members live outside Japan.
· What's the meaning of PhotoGuide Japan's logo?



The circles were designed to look like the front of a camera lens. The three circles represent photographers in their own worlds orbiting this thing called photography. And together with the two straight lines on the bottom, it looks like a roll of film. The logo was designed by Utako Minamino and Philbert Ono.
· Disclaimer
Although utmost efforts have been made to ensure the accuracy of the information presented in PhotoGuide Japan, all information is presented on an "as is" basis. Use the information only at your own risk. The author and PhotoGuide Japan's Internet Web presence provider shall not be liable to any person or entity with respect to any liability, loss, damage, accident, or inconvenience caused or alleged to have been caused directly or indirectly by any of the information contained in PhotoGuide Japan.
The mention of companies, service providers, and other vendors in PhotoGuide Japan is for informational purposes only and does not constitute any endorsement.
· Privacy policy
Any private or personal information you give us through email or other means will be kept private unless we are requested by law enforcement authorities for such information.
If you appear in any of the images we display on our Websites (photojpn.org, photoguide.jp, shiga-ken.com) and do not want your face to be recognizable or included in the image in question, we will honor any requests to delete the image or blur your face.
Third party vendors, including Google, use cookies to serve ads based on a user's prior visits to our websites.
Google's use of the DoubleClick cookie enables it and its partners to serve ads to our users based on your visit to our sites and/or other sites on the Internet.
You may opt out of the use of the DoubleClick cookie for interest-based advertising by visiting the ads preference manager. (Alternatively, you can opt out of a third-party vendor's use of cookies for interest based advertising by visiting aboutads.info.)
The cookies of other third-party vendors or ad networks may also be used to serve ads on our sites.
You can opt out of the use of cookies for interest-based advertising (if the vendor or ad network offers this capability) by visiting those sites (click on link above). Alternatively, you can also to opt out of some third-party vendors' use of cookies for interest-based advertising by visiting aboutads.info.
· Copyright Notice
Unless stated otherwise, all text, graphics, and photographs are Copyright (c) by Philbert Ono. All rights reserved.
No part of this Web site may be reproduced, transmitted, or translated into any language in any form or by any means without the written permission of the author or artist. The information presented may be stored in a storage or retrieval system only for personal reference purposes and not for redistribution in any form.