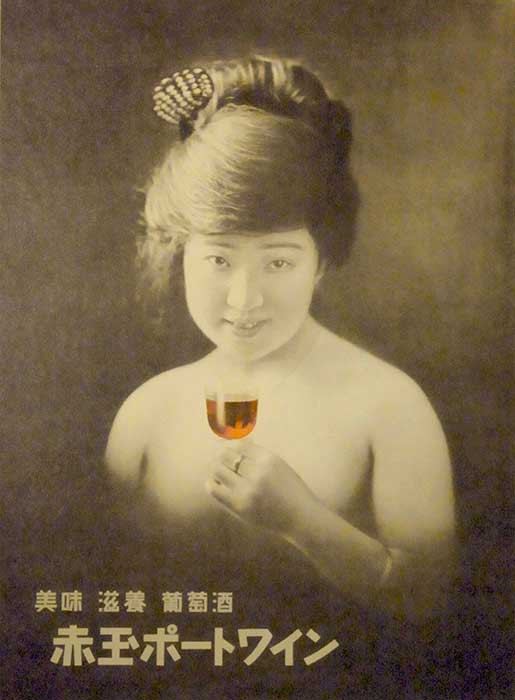 by Philbert Ono
In 1922, Torii Shoten (鳥井商店), the forerunner of Osaka-based beverage maker Suntory, made this poster to promote its "Akadama Port Wine" in Japan. Dubbed "Japan's first nude poster," it became an instant sensation.
It has become one of Japan's most iconic and classic images. Any book about Japan's advertising history or photographic history would include this historical poster. The nascent start of the "sex sells" concept in Japan. Needless to say, thanks to this poster, they sold a lot of this wine.
The poster was also very controversial during a very conservative period in Japan. The "nude" model was Emiko Matsushima (松島栄美子), a stage actress. A young woman posing like this was unthinkable and taboo in those days, and she was subject to police questioning for obscenity and other public harassment. She was even disowned by her siblings and all her relatives. Poor girl.
Emiko was the prima donna of a musical troupe (赤玉楽劇座) created specifically to promote Akadama Port Wine. The troupe went around Japan for a year to entertain wine retailers and customers. She was originally from Tokyo and worked as a stage actress before her famous gig.
Afterward, she moved back to Tokyo, married an NHK employee before World War II, had a son, and lived out her final years quietly in an apartment in Takadanobaba, Tokyo. Shortly before she died in 1983 at age 90, her nephew took a picture (below) of her posing with her famous poster at home.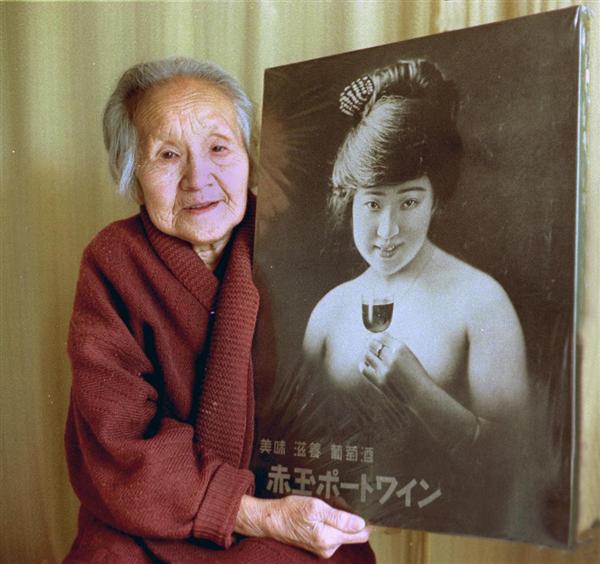 Not much is known about the process of making this iconic shot. Torii reasoned that no matter how good a product was, it would be no use if people didn't know about it. And so apparently he was in favor of a sensational PR campaign.
The photographer was KATAOKA Toshiro (片岡敏郎) who worked in the company's PR department. Kataoka was already well-known in the advertising business as exceptionally talented, progressive, and innovative. He was the one who formed the musical troupe to promote the Akadama Port Wine.
He rented a photo studio in Osaka for a total of six days in May 1922 and took many shots of Emiko starting with her dressed in a kimono. Then he posed her in her underclothing, and eventually topless. Kataoka took about 50 to 60 shots per pose.
The final poster was made in a sepia tone with only the red wine standing out in color. The poster later won 1st place at a world poster contest held in Germany.
Suntory was founded in 1899 as an imported wine shop named Torii Shoten (鳥井商店) in Osaka by Shinjiro Torii (鳥井 信治郎). It mainly sold Spanish wines, but they didn't sell well in Japan. So Torii produced his own sweet wine named "Akadama Port Wine" in 1907 (still sold today as "Akadama Sweet Wine").
Akadama Port Wine was the first product made by Suntory. "Akadama" means "red ball" in reference to the sun (like on the Japanese flag). Helped by this nude poster, Akadama Port Wine sold well in Japan and Torii used the profits to try and make whisky. And the rest is history. Suntory now makes just about anything you can drink besides alcoholic beverages. Soft drinks, coffee, and even mineral water.
The company was renamed Kotobukiya in 1921, and then "Suntory" in 1963 after its main whisky. The name "Suntory" comes from "Sun" and the founder's name "Torii." The "Sun" comes from the "Akadama" red sun.
If you are in Kyoto or Osaka, I highly recommend taking a tour (only ¥1,000) of the Suntory Yamazaki Distillery, a short train ride from JR Kyoto Station. Reservations are required. The distillery also has a museum, whisky-tasting bar, and gift shop. Great for whisky fans.