Organized & sponsored by PhotoGuide Japan
Co-sponsor: Kyoto City International Foundation
| | |
| --- | --- |
| | Introducing Cedric Bertrand |
Born 1964 in Paris, France. Moved to Japan in 1999, now living in Tokyo. Became interested in photography in 1994 and taught himself photography and B/W printing.

Since then, photography has been a serious hobby and an opportunity for a renewed look at the world around him. His current interests in photography include scenes from people's daily lives and nature.
KIPS 2001 Exhibition: Relaxing in Paris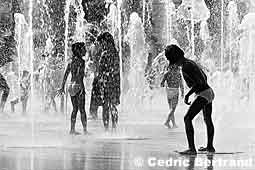 At KIPS 2001, he showed nine B/W pictures of the natural and leisurely pasttimes of people relaxing in parks and public gardens in Paris: children, couples, sunbathers and others.

Web site: http://www.multimania.com/irasshai/index.html
---
PhotoGuide Japan > KIPS 2001 Index > About KIPS 2001 | Artists | Exhibition | Slide Show

PhotoGuide Japan is a trademark of Philbert Ono. Contact Us
© 2002 Philbert Ono. All rights reserved.
Transmitting from Tokyo, Japan.
Last modified: March 5, 2003