What's this? Introduction to YURA Hideki. Last modified: February 20, 2003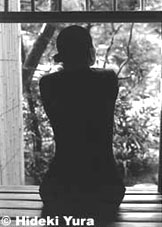 Name: Hideki YURA
Nationality: Japanese
Hometown: Kyoto, Japan
Current location: Kyoto, Japan
Specialty: B/W
Languages spoken: Japanese and a little English
Age: 30s
Web site: None
E-mail: Available upon request

Thanks to the Kyoto International Photo Showcase 2001 (KIPS 2001) held in Nov. 2001, I've gotten to know many more photographers in the Kyoto area. Hideki is one of them. These pictures are from the same series he exhibited at KIPS 2001. They were taken at temples in Kyoto and seem to have a healing effect for daily stress. (Read more about this series here...) -Philbert Ono

He has also answered our standard interview questions below:

How and when did you get interested in photography as a hobby or profession?

I started taking pictures from around age 20. I like photography because it lets me see the world in ways which I normally would not see with my eyes.

How or where did you learn photography?

I went to an art school in London, England.

What kind of cameras do you use now?

I always use a different camera for each series. It's hard to find a camera which I like, but sometimes I use the Leica M6 because it's simple and easy to use.

What are your favorite subjects to photograph?

What do you hope to achieve with photography?

I hope that many people see my pictures and be moved by them.