Organized & sponsored by PhotoGuide Japan
Co-sponsor: Kyoto City International Foundation
| | |
| --- | --- |
| | Introducing YURA Hideki |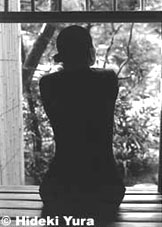 Born 1968 in Kyoto. Resident of Kyoto. Studied photography in London, England 1992-1993. From age 30, he began to think more about his hometown of Kyoto and starting photographing it. The Kyoto he sees is neither new nor old. His miyabi series showed a woman friend at various Kyoto temples. "Miyabi" is the Japanese word commonly used to refer to the traditional beauty of Kyoto.

Solo Exhibitions

2001: SARACCA, Kyoto
Cielo azul, Shizuoka
Gallery Jin, Tokyo
Kyoto International Photo Showcase 2001 (group), Kyoto
Dojidai Gallery, Kyoto
2000: Gallery Jin, Tokyo
Jikukan Gallery, Kyoto
1999: Gallery Field, Kyoto
1998: Gallery Field, Kyoto
Prinz the Gallery, Kyoto
KIPS 2001 Exhibition: miyabi
At KIPS 2001, Hideki exhibited seven poster-size, B/W photos for this miyabi series. It was a search for the beauty of his native city of Kyoto, expressed through both a woman and Kyoto temples such as Kenninji, Tenryuji, and Kotouin. It was a quiet and serene series (almost Zen-like) with a striking contrast between black and white.

The model's name was Kae MIYAGAWA who was a friend of Hideki's. He just let her be herself and did not pose her at all for this series. She also came to the KIPS exhibition (photo above) and was very nice.

See more photos in this series at PhotoShowcase/Hideki YURA.
---
PhotoGuide Japan > KIPS 2001 Index > About KIPS 2001 | Artists | Exhibition | Slide Show

PhotoGuide Japan is a trademark of Philbert Ono. Contact Us
© 2002 Philbert Ono. All rights reserved.
Transmitting from Tokyo, Japan.
Last modified: March 5, 2003