Organized & sponsored by PhotoGuide Japan
Co-sponsor: Kyoto City International Foundation
| | |
| --- | --- |
| | Introducing HINAGA Mariko |
Native of Shiga Pref. Currently a student at University of Shizuoka majoring in International Studies. Received a grant to study at Northern Michigan University in Marquette as a sister-city exchange student from August 2000 to April 2001. While there, she took a course in B/W photography in Marquette and got interested in photography.

Shortly after returning to Japan, Mariko discovered PhotoGuide Japan and contacted Philbert who soon invited her to participate in KIPS 2001. She was the only woman and the youngest artist participating in KIPS 2001.
KIPS 2001 Exhibition: Hometown
For KIPS 2001, Mariko exhibited eight photos taken in her hometown in beautiful Shiga Prefecture which is most famous for Lake Biwa, Japan's largest lake. Her pictures focused on her grandfather who likes to work in the backyard vegetable garden. The photo of a cheery, elderly lady (not a relative) standing next to an old mail box was a popular favorite. It brought many cries of "kawaii!" (cute). Her pictures conveyed well the warmth and goodness of her hometown and home. See more of her photos at PhotoShowcase/Mariko HINAGA.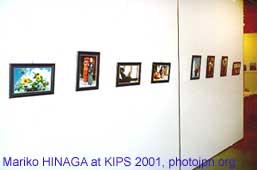 ---
PhotoGuide Japan > KIPS 2001 Index > About KIPS 2001 | Artists | Exhibition | Slide Show

PhotoGuide Japan is a trademark of Philbert Ono. Contact Us
© 2002 Philbert Ono. All rights reserved.
Transmitting from Tokyo, Japan.
Last modified: September 17, 2006