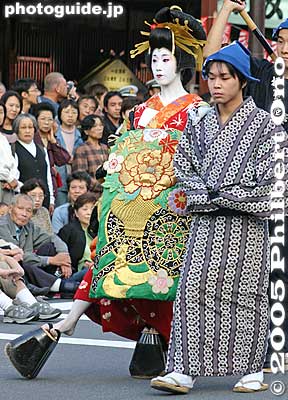 Thank you for visiting my site!
Allow me to give a short introduction to PhotoGuide Japan to help you understand this site better.
PhotoGuide Japan started out in spring 1996 as a pioneering online guide to photography in Japan, becoming the world's most comprehensive (but far from complete) English resource on photography in Japan.
It is basically a resource site to educate you about Japanese photography. It covers the cultural and historical aspects of photography in Japan. For example, you can find a history of Japanese photography, biographies of Japanese photographers, photo book reviews, and listings related to photography in Japan.
Sorry to say that content related to Japanese photography is no longer updated as often as before. Some information has been scaled back or has become outdated as addresses change, people and companies move (or die), etc. This is also due to the fact that there is a lot more information about Japanese photography from other sources like Wikipedia. Many Japanese photographers, photo galleries and museums in Japan also have their own Web sites, sometimes in English.
It does not provide product information such as equipment reviews, camera prices, new product announcements, etc. Such information is readily available from many other sources.
From 2004, the site was complemented by a sister site called PHOTOGUIDE.JP which focuses on introducing Japan through photographs to promote tourism. Both sites at photojpn.org and PHOTOGUIDE.JP share common resources such as online photo galleries and blogs so you will see both domain names used interchangeably and seamlessly. PHOTOGUIDE.JP is updated often with new photos of Japan. As of Feb. 2013, it has over 46,000 online photos of Japan in over 890 albums (photo sets).
PhotoGuide Japan has three main objectives:
1. To introduce Japanese photography to the English-speaking world. It aims to rectify the lack of information in English on the cultural and historical aspects of Japanese photography.
2. To promote better understanding of Japan through photographs and the written word.
3. To conduct and promote international exchange and networking on a grassroots level through photography.
Since PhotoGuide Japan first went online, the site has grown and improved along with the Internet trends and technologies that have become available.
In spring 1998, we delved into e-commerce by selling Japanese photo books to overseas customers. This service has proven to be very valuable to people unable to access Japanese bookstores outside Japan. Then in late 2002, we started an auction proxy service, to buy stuff at Japanese auction sites for overseas customers from Japanese sellers who would not ship overseas. You can also buy stuff from other online Japanese vendors through us.
At the turn of the 21st century, PhotoGuide Japan organized public events (slide shows and exhibitions). PhotoGuide Japan also hosts the world's largest online directory of English-speaking pro photographers in Japan at Photographers Japan.
In July 2006, I started uploading original video clips to YouTube (username: photojpn) and have incorporated video clips along with my photos on this site.
The site continues to rank toward the top in key word searches related to Japan and photography and it is usually ranked toward the top in terms of popularity under the Japan > Photography category at popular directories such as Google (until their directory was scrapped in 2011) and Yahoo! (in both English and Japanese):
http://dir.yahoo.com/Regional/Countries/Japan/Arts_and_Humanities/Visual_Arts/Photography/

· How is the site content organized?
First of all, there are two domain names: photojpn.org concentrates on Japanese photography, while PHOTOGUIDE.JP serves as a photo guide to Japan with numerous images (and videos) of temples, shrines, festivals, etc., from all over Japan. (Images available for licensing.) It also provides Japan tourist information in English.
PhotoGuide Japan at photojpn.org is divided into a few categories:
Japan Photos – My thousands of photos of Japan organized according to prefecture/city/town. Available for licensing.
Japan Videos – My videos on YouTube, centering on Japanese festivals (matsuri).
NewsZONE – News, notices, and information (text-oriented content).
DirectoryZONE – Addresses and phone numbers (online address book).
Archives – Old Web site content no longer updated.
Each category has various "Photo" topics or sections. Just click on each one to see what's there. There's something for everyone.
The most popular sections include PhotoReviews, PhotoHistory, PhotoWho'sWho, PhotoWords, and PhotoSpaces.
You can always return to the home page by clicking on the PhotoGuide Japan logo on the upper left corner.
Meanwhile, PHOTOGUIDE.JP consists of three basic sections:
1. Japan Photos – Online gallery of thousands of Japan photos from all 47 prefectures. There are over 800 photo sets organized according to prefecture, city, town, and village.
2. Japan Articles – Full-length articles about Japan.
3. Japan Blog – Commentaries and shorter articles about Japan by Philbert.
And as mentioned above, I also have a presence on YouTube (username: photojpn with over 250 video clips. Many of which are Japanese festivals (matsuri).
· Who is behind this site?
It's just little ol' me. Name's Philbert Ono.
I opened the site in spring 1996. I operate and maintain the site all by myself here in Tokyo, Japan. I'm totally independent and have total control over all content and management of this site.
I work as a freelance translator, photographer, and online agent and proxy bidder for Japanese auctions and shops for customers outside Japan. I'm a Japanese-American originally from Hawai'i. Basically, I like to take pictures of things Japanese (especially people) and things Hawaiian. Every month, I visit a few places or see festivals in Japan which I've never seen before. My monthy harvest of the best images are displayed on this Web site.
You could call this a hobby-turned-into-part-time-business. I've been taking pictures since high school, and Japan is so full of visual imagery that it's a photographer's paradise.
Also, I'm really into promoting better understanding of Japan, and photography and tourism are my main means to this end. I'm learning a lot by all this, and people find my site useful and informative as well.
Knowing that it is helping a lot of people around world, from the casual foreign tourist/shopper in Japan to Ivy League university professors and students, also keeps me motivated. It's a lot of work, but it's fun and a learning experience for me.
· What is PhotoGuide Japan's URL?
We currently use these two domain names and URLs:
http://photojpn.org/
http://photoguide.jp/
You might also see shiga-ken.com which is my site dedicated to Shiga Prefecture, where my ancestors are from.
You can also insert "www" in front of the domain name, but it is not necessary. We also own "photojapan.org" and "photoguidejapan.com" and both will go automatically to our home page at photojpn.org.
· Who is your target user?
We target the following people:
- Amateur and pro photographers.
- People interested in Japanese photography or photography in general.
- People interested in Japan.
- People doing research on Japanese photography.
- Foreign tourists and residents in Japan.
- Clients wanting to hire a photographer in Japan.
- Japanese wanting to learn English.
· How many hits do you get?
We estimate that at least a few thousand people visit the site every day.
· How do you use the site search engine?
On the home page, our search engine is powered by Google, and it can search for all pages within the site or on the Web. You can even search for a message board post.
Just click on the "Search" link on the navigation bar provided on the top or bottom of most pages.
· How often is the site updated?
The site updated on an irregular basis. My new photos and videos of Japan are added constantly, but the home page is updated once every few months.
Updates are announced under the "What's New" sidebar on the home page as well as on the What's New page.
· Are you on Facebook?
Yes, we have a Facebook group called Photographers Japan. This is a discussion forum for people interested in both photography and Japan. Many members live outside Japan.
· What other services do you offer?
For a complete list of our services, see PhotoGuide Japan Services.
· Do you accept advertising on your site?
Yes, we accept ads on the site (besides Google ads) in various sections and Web pages. Contact us for details.
· Why not use Flickr to host your images?
It doesn't make sense to pay money to Flickr when I can make money by keeping my images on my own site and having ads. I also have total control over my online photo galleries. I can write captions below thumbnail images even. Flickr's thumbnails are tiny little square images which show only part of the image. Their system just doesn't work with me. I also prefer to keep my visitors on my site instead of redirecting them somewhere else.
· What's the meaning of PhotoGuide Japan's logo?



The circles were designed to look like the front of a camera lens. The three circles represent photographers in their own worlds orbiting this thing called photography. And together with the two straight lines on the bottom, it looks like a roll of film. The logo was designed by Utako Minamino and Philbert Ono.
· Is there a Japanese version of the site?
Yes, there is a Japanese home page at http://photojpn.org/indexj.html. However, only a few pages are actually in Japanese.
· Explain the technical aspects of the site.
Our Web server is hosted by a Web host company in the United States.
The site is driven by a few content management systems (CMS). We use popular, php-based, open-source software to drive the site. One section even uses the same software that runs Wikipedia.
We use a different CMS for different purposes. For example, we use a photo gallery program to show images and blog software for this News section.
· How can I contribute content to the site?
You the can contribute to the site as follows:
- If you see any errors on the site, please contact us.
- If you want to post any exhibition notices or pertinent announcements, contact us.
· Acknowledgements
I want to thank everyone visiting PhotoGuide Japan, customers of PhotoGuide Japan's online mail order service, and all the great people I've met online. I also want to thank the people who invented the Internet and WWW and made them accessible to the masses.
· Disclaimer
Although utmost efforts have been made to ensure the accuracy of the information presented in PhotoGuide Japan, all information is presented on an "as is" basis. Use the information only at your own risk. The author and PhotoGuide Japan's Internet Web presence provider shall not be liable to any person or entity with respect to any liability, loss, damage, accident, or inconvenience caused or alleged to have been caused directly or indirectly by any of the information contained in PhotoGuide Japan.
The mention of companies, service providers, and other vendors in PhotoGuide Japan is for informational purposes only and does not constitute any endorsement.
· Privacy policy
Any private or personal information you give us through email or other means will be kept private unless we are requested by law enforcement authorities for such information.
If you appear in any of the images we display on our Websites (photojpn.org, photoguide.jp, shiga-ken.com) and do not want your face to be recognizable or included in the image in question, we will honor any requests to delete the image or blur your face.
Third party vendors, including Google, use cookies to serve ads based on a user's prior visits to our websites.
Google's use of the DoubleClick cookie enables it and its partners to serve ads to our users based on your visit to our sites and/or other sites on the Internet.
You may opt out of the use of the DoubleClick cookie for interest-based advertising by visiting the ads preference manager. (Alternatively, you can opt out of a third-party vendor's use of cookies for interest based advertising by visiting aboutads.info.)
The cookies of other third-party vendors or ad networks may also be used to serve ads on our sites.
You can opt out of the use of cookies for interest-based advertising (if the vendor or ad network offers this capability) by visiting those sites (click on link above). Alternatively, you can also to opt out of some third-party vendors' use of cookies for interest-based advertising by visiting aboutads.info.
· Copyright Notice
Unless stated otherwise, all text, graphics, and photographs are Copyright (c) 1996-2013 by Philbert Ono. All rights reserved.
No part of this Web site may be reproduced, transmitted, or translated into any language in any form or by any means without the written permission of the author or artist. The information presented may be stored in a storage or retrieval system only for personal reference purposes and not for redistribution in any form.