Book: Photography and Japan by Karen M. Fraser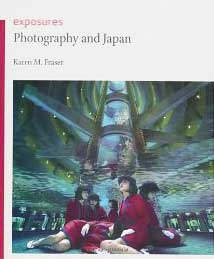 A new book about photography in Japan has been published in English. The author is Karen M. Fraser, an Assistant Professor in the Department of Art and Art History at Santa Clara University in California, USA.
Being written by an academic, you might think this book might be too scholarly or cerebral, but I'm delighted to report that it is obviously written for the layman. It is very easy reading and touches base with most people and things as it traces the history of photography in Japan intertwined with the country's social history from the 1850s to the present day.
The author mentions the most important Japanese photographers, whether they are from the Meiji Period or the present day. The book is also heavily illustrated in color, making it very interesting to thumb through.
Thus, it is a great introduction to Japanese photography for everyone. The book has an Introduction, and then only three chapters. Chapter One centers on people and portraits, Chapter 2 focuses on wartime photography, and Chapter 3 is about cityscapes and street photos. It's not a massive, intimidating book. You can probably read it in a few hours.
In the Introduction, the author asks the basic question, "What is Japanese photography?" This is a question I've wrestled with myself before, but couldn't really define it clearcut. But for the purposes of my PhotoGuide Japan web site, I pretty much define it as photography created by a Japanese national and/or images of Japan and the Japanese. Of course, there are inherent flaws with this definition, but I have been using it as a basic guideline while noting and accepting exceptions to the rule.
Instead of trying to define what Japanese photography is, the author has pursued to link photography in Japan with Japan's social history. She shows how Japanese photography is distinctive through its reflection of Japan's social history. This makes it a very interesting read as you learn about both Japanese photography history and Japanese social history.
Over a year ago, I had the pleasure of helping the author contact a few photographers and estates to secure photograph reproduction rights for this book. I thank her for mentioning me in the Acknowledgements and congratulate her on a job well done.
Book available at Amazon.com. ISBN: 978-1861897978